airport resumes flights amid blood, shattered glass
Istanbul, Turkey (CNN) As passengers at Istanbul's Ataturk Airport waited to board their flights Wednesday, workers picked up shattered glass and washed off blood that was barely dry.
The airport is up and running hours after the Tuesday night attack, which killed at least 41 people, Turkish officials said. Of the 239 people injured, 109 remained hospitalized Wednesday.
At least 37 of the deceased have been identified, including 10 foreign nationals and three dual nationals, the Istanbul governorship said.
One Ukrainian is among those killed, Turkey's foreign ministry said. Another was a Palestinian, the Palestinian Authority's Foreign Ministry said. Five other Palestinians were injured.
And an Iranian citizen also died in the attack, the nation's semiofficial ISNA news agency said. The country has since canceled all flights to Istanbul, according to the Iranian Tasnim News Agency. A Russian national was injured in the attack, according to state-run Sputnik news.
Identities of the other victims have not been released.
Of the three bombers in the airport attack, two were at the international terminal, and the third terrorist was in the nearby parking lot, a Turkish official told CNN. All three detonated suicide vests.
The attacks happened on a warm summer night at the airport, east of Istanbul, which is the 11th busiest in the world in terms of passenger traffic.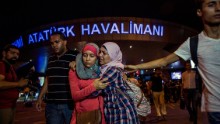 People flee the scene of a terror attack at Ataturk airport in Istanbul, Turkey, on Tuesday, June 28. Three terrorists armed with bombs and guns attacked the main international terminal, opening fire and eventually detonating their devices.
Ataturk Airport is "one of the most secure airports in the world," CNN senior law enforcement analyst Tom Fuentes said. But the airport has been "very overwhelmed for several decades with terrorism from PKK."
Experts say Turkey is especially vulnerable because of the terror groups operating there.
"You cannot protect these airports 100% … especially in a place like Turkey, where ISIS has cells everywhere," said retired Lt. Col. Rick Francona, a former U.S. military attaché in Syria.
The airport was closed overnight for several hours, and flights into the airport had been diverted to the capital of Ankara and other cities.
It has since reopened and flights have resumed.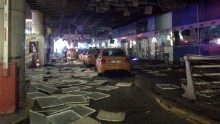 'Bloody boot marks'
Witnesses described the carnage and crowds as the attackers struck one of the world's busiest airports.
Sue Savage was in the airport to see a friend off when she heard gunshots and then an explosion. More gunshots rang out, followed by another boom, she told CNN's "Erin Burnett OutFront."