Hong Kong (CNN) With its eye-catching looks and Formula One-rated velocity, this prototype ticks all the "supercar" boxes — but this is no ordinary speed machine.
The "DevBot" is an autonomous electric racing car — the first of its kind anywhere in the world, so say its developers, designed to reach speeds of 215 mph (350 kph) without anyone at the steering wheel.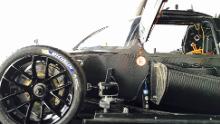 Introducing the DevBot — the world's first robot electric race car
A scary thought you might think, but not so say Roborace — the team of engineers and computer scientists behind it — who believe it will put people more at ease with the idea of driverless cars.
"It's been created to show the capabilities and make people feel a bit more comfortable about autonomous cars — so we need to show that by doing some cool stuff," Roborace's head of PR Victoria Tomlinson told CNN.
The plan is eventually to have 10 autonomous cars all competing around a track in a
Roborace
series and performing stunts as part of Formula E race weekends.
'Playing chicken'
"It's more of an entertainment series to display the capabilities of driverless," Tomlinson says. "So we'd like almost to play chicken with them — two cars coming towards each other and stopping on a certain point (before they hit each other), having them crisscross, doing figures of eight."
However, things didn't quite go to plan for its first scheduled street track outing at the inaugural Formula E Hong Kong ePrix this weekend.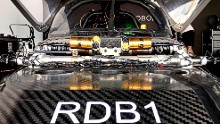 There were no high-speed figures of eight, only seven engineers struggling to push the 1.1-ton car through a three-point turn outside its temporary home in Hong Kong — problems recharging the battery the reason given for the no show.
But there was plenty of other action for the 25,000 fans with tickets for Formula E's two-day event — the curtain-raiser to the 2016-2017 world championship.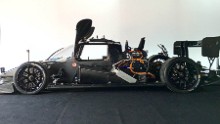 A range of technology demonstrations, promotions and computer games in the eVillage served as a prelude to Sunday's 45-lap race around a 1.8-kilometer track in the city's Central Harborfront area which was won by reigning world champion Sebastien Buemi.
The final car, created by "TRON: Legacy" vehicle designer Daniel Simon, will sport a far more futuristic chassis with
no room for humans
.
"Of course, we can get a lot of information from data but there's nothing like having a human in there to ask them how it actually feels, but the final cars won't have space for a driver at all," Tomlinson says.
"We are calling this a Beta season — getting people on board and getting them up to speed."
The Roborace team will try again at next month's Marrakech ePrix on November 12, with Tomlinson hopeful they will be running races before the third season of Formula E ends next July.