(CNN) West Virginia rescue crews worked steadily overnight and into the morning to answer emergency calls from residents stranded by fast-moving floodwaters that have killed at least 26 people — the deadliest flash flooding in the United States since 2010.
Heavy rain battered much of the state earlier this week, and floodwaters pouring out of creeks and rivers prompted scores of rescue calls. Utilities were working to restore power for residents and businesses.
The high waters were receding this morning (Saturday), but officials, such as those in Kanawha County, are warning people to watch out for "flood debris, downed power lines and downed trees."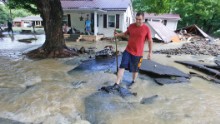 Along with responding to rescue emergencies, Kanawha County Sheriff spokesman Brian Humphreys said deputies were going to pharmacies to get medications for people affected by the flooding.
Governor Earl Ray Tomblin activated 200 National Guard members to assist in eight counties and has authorization to activate as many as 300 more, if needed.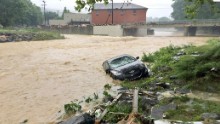 A vehicle is washed away in White Sulphur Springs on June 24.
Tomblin declared states of emergency in 44 counties Thursday night. Eleven remaining counties, located in the northern and eastern panhandles, were excluded from the emergency declaration. The communities of Elkview, Clendenin and Frame, located in Kanawha County, were particularly hard hit.
He said the flooding is the worst in a century for some parts of the state.
"Together with the National Guard, our first responders, local emergency management officials and firefighters from across the state have been working around the clock, and we are deeply appreciative of their efforts," Tomblin said in a statement.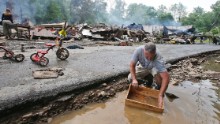 Mark Lester cleans out a box with creek water as he cleans up in White Sulphur Springs on June 24.
Three more deaths were reported overnight in Elkview, the Kanawha County Sheriff's Office said. These deaths are in addition to the 23 reported by the West Virginia Division of Homeland Security and Emergency Management. At least two children were killed in the deluge, including a 4-year-old boy who was washed away by floodwaters in Jackson County, officials said. Homes and infrastructure across the state have been severely damaged and washed away. High terrain along rivers speeded the rapid floodwaters. As of 6:30 a.m., there were 158 emergency rescue calls in Kanawha County, the sheriff's office said. Charleston, the state capital, is in Kanawha, located in the southwestern part of the state.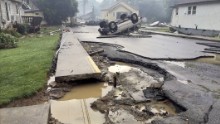 A vehicle rests on its roof after flooding near White Sulphur Springs on June 24.
In that same county, nearly 500 people were stranded at the Elkview Crossings Mall in Elkview for more than 24 hours starting on Thursday, when rain washed out an access road, officials said.
By Friday night, emergency workers had constructed a temporary gravel road to get all the people who were stranded by floodwaters to exit, according to the West Virginia Division of Homeland Security and Emergency Management.