Manila, Philippines (CNN) – Philippines President Rodrigo Duterte vows there will be no letup in his hard-line crackdown on drugs and related crime despite global concerns over the alarming death toll and possible human rights violations.
More than 1,800 people have died in police-related killings and unsolved slayings often attributed to vigilantes since Duterte took office in late June, according to police statistics.
On Tuesday, Duterte promised to fight the drug problem "tooth and nail."
"The fight against drugs will continue to the last day of my term," Duterte said at Malacañang Palace. "The fight against corruption will continue for six years maybe. … Many will be unhappy, but I think the bigger picture is that I would have something to live by for my country."
The President spoke as the country's top police officer testified at a two-day congressional inquiry launched to explain the rise in these killings.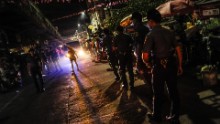 Police patrol a shanty community at night during curfew on June 8, 2016 in Manila. Philippine police have been conducting frequent night raids and revived a curfew for minors that has not been enforced for years
Philippines National Police Chief Ronald Dela Rosa told a Senate committee that more than 700 drug traffickers and users had been killed in police operations since July 1.
Dela Rosa said that 300 of his officers were suspected of involvement in the drug trade and would be relieved of their duties and tried in court.
He added that the police "follow the rule of law" and that there was no shoot-to-kill order despite the growing toll of bodies piling up in the wake of Duterte's crackdown.
Dela Rosa also said that the police's "knock and plead" campaign aims to have 1.8 million drug offenders surrender to authorities over the next six months.
'We make mistakes,' police chief says
Responding to questioning by Sen. Gregorio Honasan, Dela Rosa admitted that his officers "made mistakes."
"We are only human, and we can feel frustration …," he said.
"We admit we make mistakes, we are not perfect. We hope there is balance when they portray us."
He added, "I feel it when I go to the field, people hold my hand and say thank you for doing this. They're happy with what the police are doing."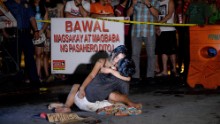 A woman cradles her husband, next to a placard which reads "I'm a pusher," who was shot dead in Manila on July 23, 2016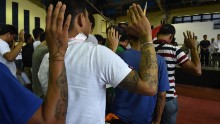 Some 1,000 people whom authorities accused of being drug users and dealers take an oath before local authorities after turning themselves in in Tanauan, the Philippines, on July 18, 2016. Philippine President Rodrigo Duterte swept to power on a promise to clamp down on drugs in a two-month crime blitz, encouraging police and even civilians to shoot drug dealers. The country has seen a surge in killings of suspected dealers.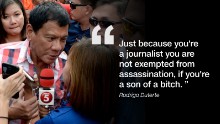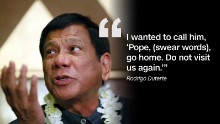 President Duterte apologized to the Pope after cursing him for the traffic he caused during a 2015 Papal visit to the Philippines.